During the stakeholder group meeting focus was given to market uptake aspects. It was learned that two items are of particular importance for stakeholders. On the one hand the need to understand the financial attractiveness of the transport system for a variety of types of stakeholders. On the other hand the need for a showcase, proving that the vessel train is safe for e.g. workers and the environment.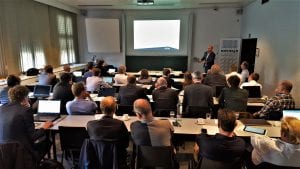 During the General Assembly initial results of calculations were presented, e.g. the relation between crew size on follower vessels and the number of vessels needed to make a vessel train (VT) economical attractive. These and other calculations are input to the Overarching Decision Analysis Model that TU Delft is developing in order to assess how various VT's perform. Performance aspects are e.g. the benefits for society, VT operator, cargo owner and other players in the logistic chain.
The development of the transport model is well underway, supporting the business economic analysis of the VT. Much attention is given to logistic parameters such as bundling in space, bundling in quantity, and guaranteed lead-times. Initial calculations gave insight in transport schedules for which the VT will be an attractive solution and those where other solutions are more beneficial.
The navigation and controlsystem[1] of the vessel train was discussed in detail. At this time the research focus is on the situation where at least one person is available on each follower vessel[2]. This boatman is not involved in the standard transit navigation of his vessel as this is controlled from the lead vessel. He is there to respond to calamities and to drive the ship when it leaves or joins the vessel train. The role and needed reaction time of this boatman to a calamity were discussed. The developed operating modes of the VT were demonstrated.
Further insight was given in the results of the cargo system analysis. One of the questions is whether the Ro-Ro concept will be a beneficial solution to move cargo from the road to water transport.
Finally an update was given on dissemination and communication activities. Some of these are the frequent publication of research updates on the website, the production and publication on social media of animations and video-interviews, and the presence at various exhibitions.
[1] Background information is available on the website in the research update "navigating & manoeuvring the vessel train – 3 September 2018".
[2] Later in the project the situation fully unmanned follower vessel will be researched.